This is a Sponsored post written by me on behalf of
Miracle-Gro
for
SocialSpark
. All opinions are 100% mine.
DIY Hanging Strawberry Planter
What inspires you in the garden?
For me, it's mostly fruit!
Growing my own fruits is like a dream, and it's what I've had the most successful experience with. My grandparents had a lot of fruit growing around their home, from strawberries, a peach tree, a plum tree, two apple trees, and two apricot trees.
Right now in my life, we don't have room for fruit trees or even a large garden at our home. (We rent and will be moving soon when we finish our degrees.) We do have room for a hanging strawberry planter though, and I want to make the most of the vertical space on our tiny porch by growing strawberries!
It's okay to start small and do what you can in terms of gardening. It's not an all or nothing deal. Below you'll find the DIY instructions for an easy vertical hanging strawberry planter. If you are looking for other easy DIY garden projects, check out "
The Gro Project
" from Miracle-Gro, where they offer easy, enjoyable, and
fun garden projects
.
In order to make a vertical hanging strawberry planter, you will need a PVC pipe about 6" in diameter and approximately 2 feet long. You will also need a drill, a PVC cap for the end of the planter, and some wire for hanging the planter.
Preparing the Planter
First, drill three 2" holes in a row down one side of the planter. Repeat twice more so that the rows of holes are spaced equally around the planter. In the end you will have tree rows of three holes each. That totals 9 holes to plant your strawberries in.
Second, you will need a a PVC cap to keep all of the dirt in there! You don't want the cap to be completely watertight though, so use a small drill bit to drill 5 drainage holes into the cap.
Third, use your drill to create holes for hanging your planter. We made three holes around the top of our planter. And voila, there is your vertical strawberry planter!
Planting Your Strawberries
I would recommend starting with seedlings, not seeds. Cap the pipe and fill the bottom portion with soil such as
Miracle-Gro
Moisture Control Potting Mix
. Fill up to the level of the first holes, then gently insert the root of a strawberry plant in each hole. While holding these in place, add more soil to secure them and to fill the planter to the level of the next holes. Repeat until all 9 holes have strawberry plants poking out of them. Make sure that you have soil on top of the upper layer of strawberries as well.
When your strawberries are secure in their hanging planter, loop the wire through the top holes to create a stable hook. Then hang up your planter (keeps it out of the way AND safe from slugs) and enjoy your DIY mini garden!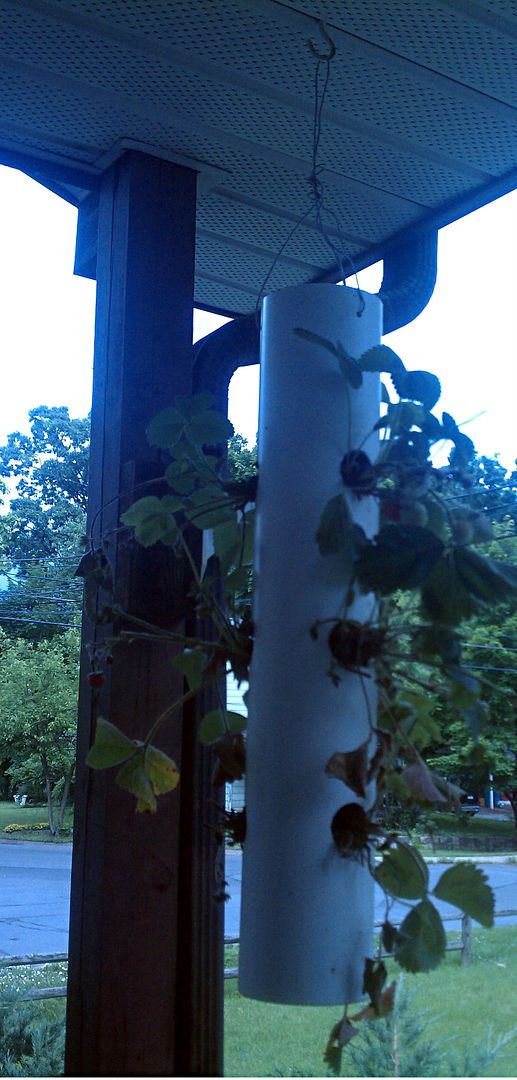 For even more Ideas, check out The Gro Project Video! You can also follow
Miracle-Gro on Pinterest
and ask experienced gardeners for advice!