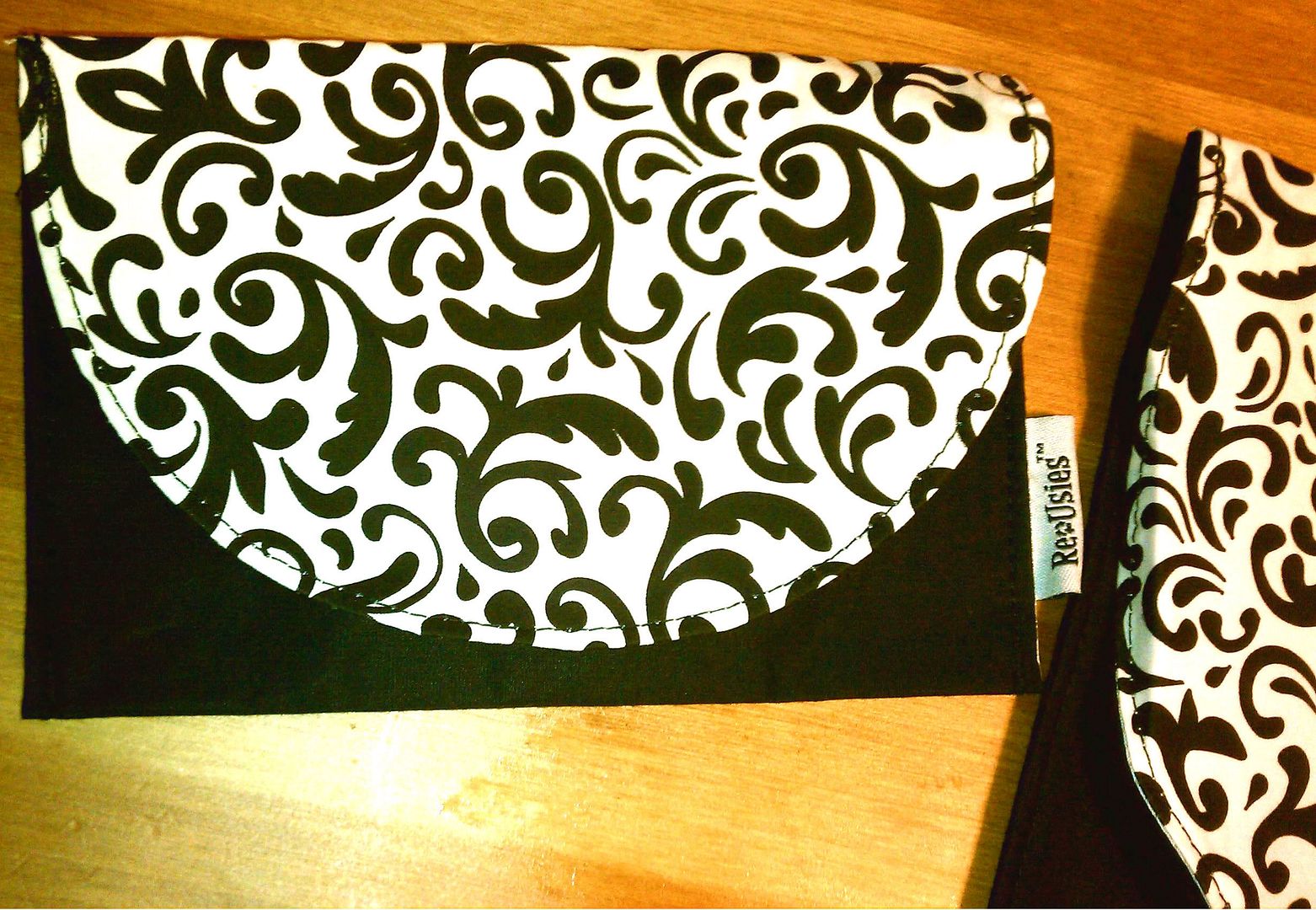 We love reusable snack bags at our house! Did you know that owning and using just one
ReUsies baggie
could eliminate the waste of hundreds of plastic bags!?
We like to buy snacks in bulk and then use a cloth snack bag to take some of the snack with us in the diaper bag. It's a great way to save money and save the earth!
ReUsies cloth snack and sandwich bags come it a variety of fun prints. The ReUsies bags are made of 100% cotton outer and come with a leak-resistant inner nylon lining.
To read more of my ReUsies review and to learn more about these reusable cloth baggies, read on! You can also enter to
win a set of ReUsies
now through December 6, 2012!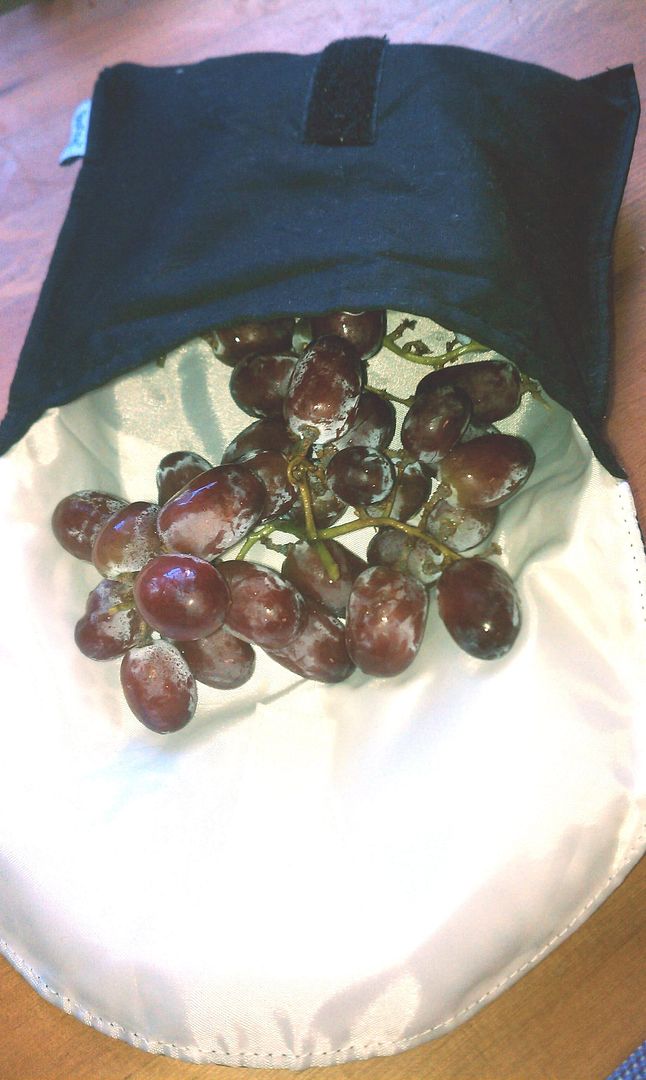 ReUsies bags
come in two different sizes: "snack" (approximately 6" x 5") and "sandwich" (approximately 7.5" x 6"). Each bag comes with a body in a basic color, with the flap in a coordinating print. Sewn onto the flap vertically is a strip of hook and loop closure (like Velcro), which matches up with a strip of hook and loop that is vertically on the body of the bag. You can see the black strip on the front of the bag in this picture here. There is also an identical loop strip on the back of the bag, which is convenient if you need to fold the bag over twice for a smaller amount of snacks or for a more secure hold. Even using the strip on the front will keep your snacks in, as the baggies are designed to have a slight fold-over area (you can also see the crease in this picture), which means that the food stays snug inside the bag.
A major plus for the ReUsies food-safe bags is that you can wash them by hand, in the dishwasher, or in the washer and dryer! Amazing! I love eco-friendly products that are easy to keep clean!
We use cloth baggies in our diaper bag every day. We usually fill our baggies with raisins, goldfish, grapes, cold cereal, baby carrots, or jam sandwiches. I also use the baggies to take lunches and snacks to campus with me. I really love that the bags are designed to fold-over at the top to keep all those raisins inside! We also frequently roll the bags and use the closure on the back to keep things even more compact.
We recently went on a road-trip with our preschooler and toddler. Of course we needed to be loaded with snacks for the long drives, as well as for trips to the museum, zoo, etc. We took our ReUsies bags with us and I am so incredibly glad that we did! We used them over and over with new snacks every day! It was nice to be able to use them for portion control (and not have to hand my toddler each individual pretzel or risk her dumping the entire bag into her carseat) and I felt safer handing my kids a cloth bag over a plastic bag. I also found that using ReUsies on our trip kept the car cleaner because we weren't dealing with four or five used up plastic bags every day.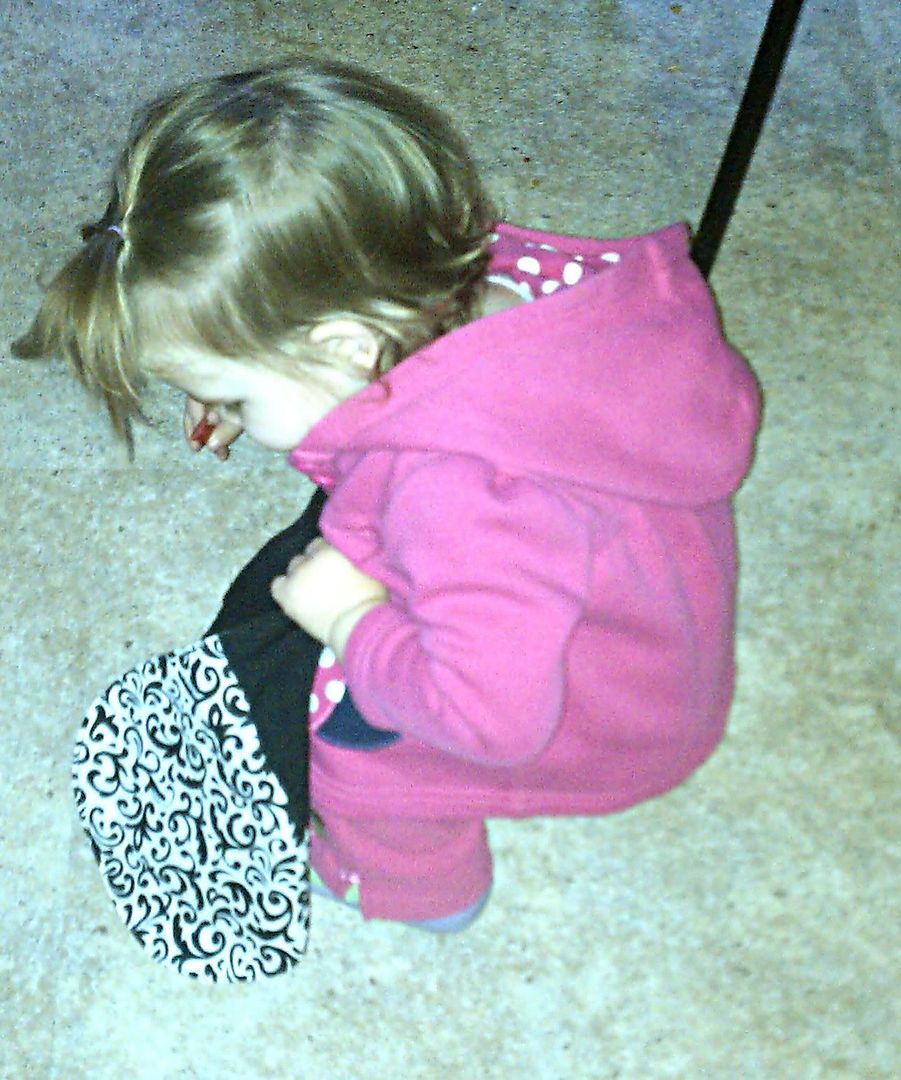 Here is a picture of my daughter as we were packing the diaper bag for the road trip. She noticed that I filled our large
ReUsies
with goldfish and needed to get her hands on them right away!
Overall I really love our ReUsies bags! In fact, we bought 2 other sets because we like them so much! They have stood up to the test of our diaper bag and a road trip and they still look great and function perfectly. Washing and drying has been a breeze. My kids can use these bags by themselves to have a snack! And of course I love saving money by buying fewer plastic sandwich baggies, and I love saving the earth by keeping plastic out of landfills!
Thanks for reading my ReUsies review! Please visit
ReUsies online
,
like them on Facebook
, and
follow them on Twitter
! Also don't forget to enter to
win a pair of ReUsies bags
through 12/6/12!
I received one or more of the products mentioned above for free using
Tomoson.com
. Regardless, I only recommend products or services I use personally and believe will be good for my readers.