We have been struggling with night-time wetting with my 4 year old son.
He was doing great and staying dry, but recently he's been having up to 4 accidents per week!
It's gotten to be too much, so we've purchased extra sheets and mattress protectors, limited liquids in the evening, and required extra potty trips before bed.
Still needing some additional help, I turned to Stacey at
Bouncing Babies Cloth Diapers
, who recommended the
GroVia My Choice Trainer
with the My Choice Trainer Plus Size Side-Flex Panels, which fit ages 3T-5T (30+ lbs.).
Read on for our full review of the GroVia Trainer from Bouncing Babies! You can also win a $20 Gift Card for cloth products!
Stacey at
Bouncing Babies
Cloth Diapers was extremely helpful and even recommended the type of inserts that she had used with her daughter in a similar situation. The insert is called
Cow Patties Bamboo Insert
and is amazingly absorbent and therefore perfect for an overnight heavy wetter situation like the one we have been experiencing with our preschooler.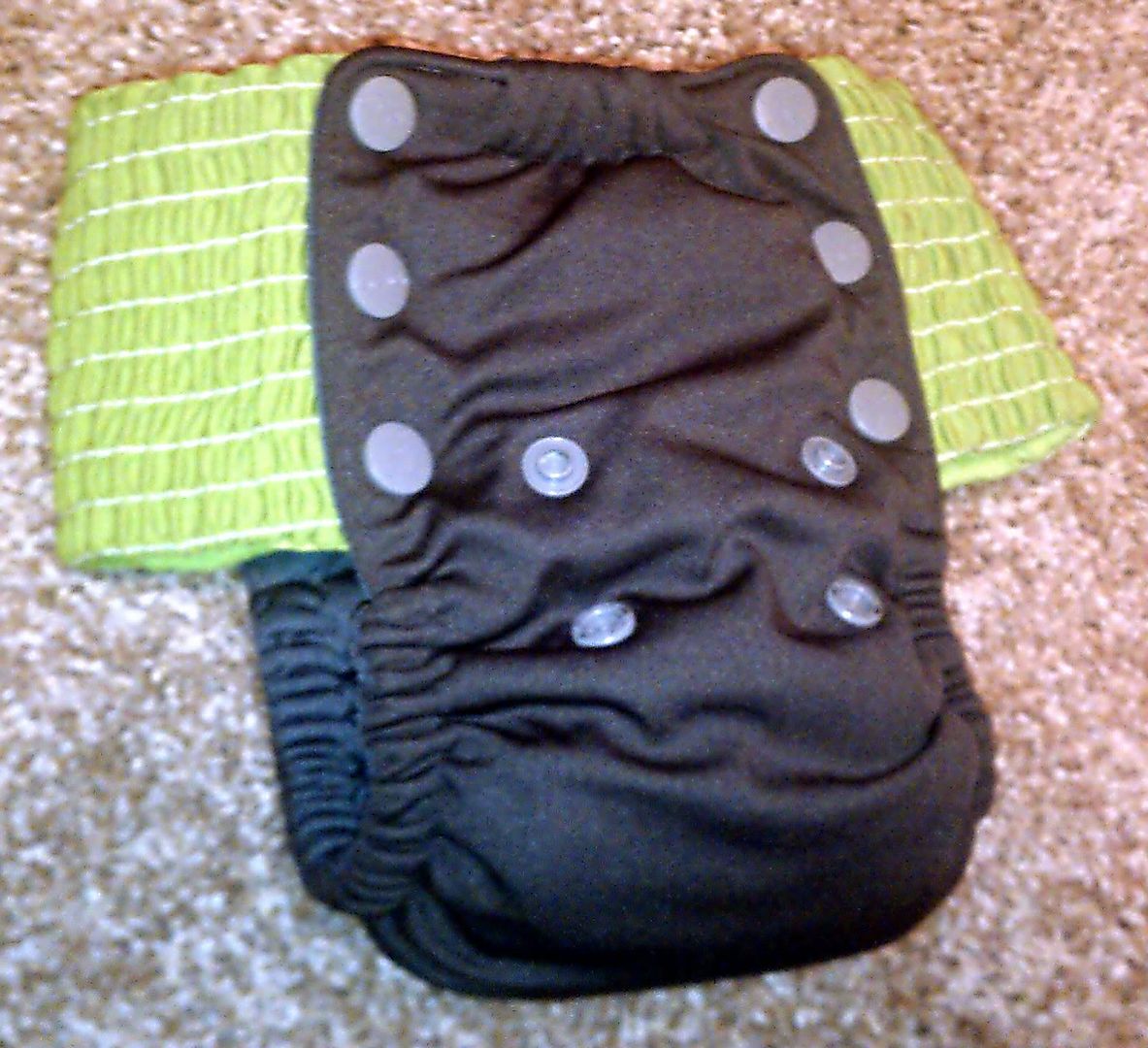 We received the Cloud
GroVia Cloth Trainer
with the Kiwi color Plus Size Panels, which are designed for preschoolers who need a cloth bedwetting solution. (The GroVia trainer came with cloud color regular sized panels.) Inside the GroVia Trainer is a cotton-hemp blend core, which means that there is absorbency built into the trainer itself. The trainer also includes a hidden pocket so that you can customize the absorbency of the trainer for your child's needs. Other features of the cloth trainers include rise snaps for a custom fit and a GroCool inner layer that lets the child feel wetness. To me, the inner layer felt like material that would be a part of comfortable sportswear.
The
Cow Patties Bamboo Insert
is made of earth-friendly and ultra-absorbent bamboo. It's an extremely long and thin insert, and is the perfect width for stuffing in the GroVia trainer. In this picture it is folded over four times! It is actually longer than my son is tall, a fact that my son found incredibly entertaining.
The trainer itself needs to be prepped separately from your other diapers because it contains hemp, which has natural oils that need to be washed out. You can just toss it in with towels or other laundry that won't get clogged up from a little hemp oil like your cloth diapers would. The same thing goes for the bamboo insert, except for the insert needs to be prepped 10-12 times to reach full absorbency. Wow, 10 is a lot of pre-washing! That was a little overwhelming, but overall it was worth it to get the amazing absorbency of the bamboo insert.
So, now that you know about all the features of the GroVia Trainer and the Cow Patties Bamboo Insert, you should know about how they worked for us. First of all, these trainers were great for us because they are waterproof. We need a solution that can get our preschooler through the night (not require more sheet changes). So that was a definite plus!
We used the
GroVia
Trainer for the first time while we were visiting relatives over the weekend. We absolutely could not have
any
bed-wetting on this trip (no waterproof mattress pads!) and so we turned to the GroVia waterproof trainer. The Cow Patties Bamboo Insert was a great fit for the narrow opening of the GroVia trainer. The opening is really quite narrow and that means that stuffing can take a bit of effort, but a benefit of this is that the insert is snug and secure inside the pocket. I was so happy that Stacey at
Bouncing Babies
recommended the Cow Patties insert because it is the absolutely perfect width for the trainer. Many of my microfiber inserts would be too wide (and probably wouldn't hold my 4 year old overnight without leaking), so a thin bamboo insert was essential.
The fit of the trainer was great in the front--it looked like underwear from the front. The back was a bit more narrowly cut in the back than I had expected. I got used to the look after a while and my son never complained about the fit at all. He told me that the trainer was "comfy."
In an effort to delay bedtime, my preschooler "had to go on the potty" four or five times. He had absolutely no problems pulling the trainer up and down all by himself each time to go to the bathroom. I was really impressed with that aspect of the trainer. I noted that the trainer did not twist, creep up, or have side panels come unsnapped. After my son finally went to bed, he stayed dry and comfortable all night. The trainer stayed in place, even though it seemed to just fit. He even had no red marks from the trainer in the morning.
Now whenever we need a waterproof solution, we turn to our GroVia Trainer. I love that my son can pull it up and down easily (and without help!). Although it looks like a snug fit, it does not ride up or down and stays in place.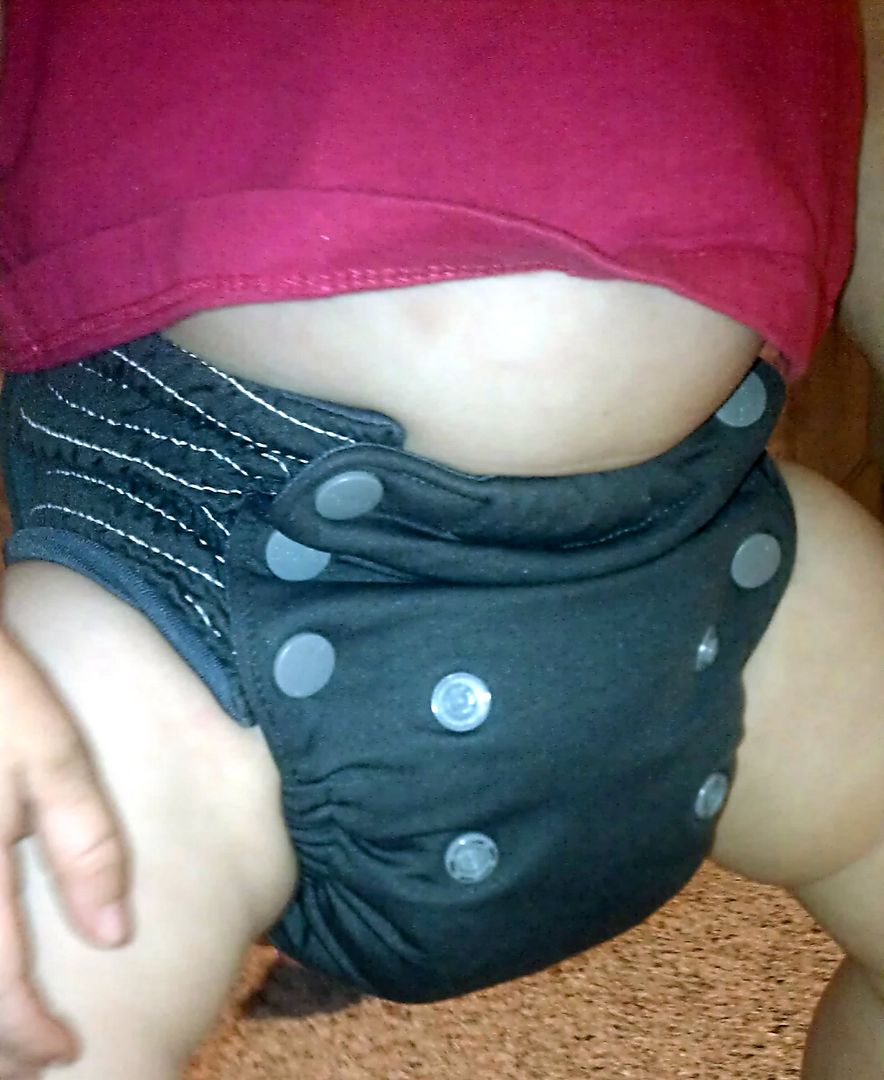 My daughter, who is 19 months, is pretty jealous of our son's underwear. She was really interested in the trainer because it pulls up and down, so we had her wear it overnight as well. We used the regular sized side panels that came with the trainer and it was a great fit! (She wears size 24 months.) She was thrilled! (And she did a sumo pose to show her excitement, as you can see.) Because of the bamboo insert, the trainer was thinner than her regular nighttime diapers. In the morning her clothes were dry, although the outside of the trainer felt the slightest bit damp. I wasn't worried about that for two main reasons: her clothes were dry, and we still needed a few more prepping washes to get the bamboo insert through its 10-12 prep cycles. I knew that it would get even more absorbent with time!
Overall, I am so happy that we have a waterproof trainer that my son can use by himself. I love that the GroVia stretchy side panels are comfortable and easy to use. The Cow Patties insert is really the ideal insert for the GroVia trainer, and is so soft and absorbent. I am excited to be able to use this trainer for my son and daughter.
In addition, I was so impressed by the customer service at
Bouncing Babies Cloth Diapers
. Stacey is so knowledgeable about cloth diapers and trainers and she is warm and friendly. The store has an amazing array of cloth diapering products as well. Right now you can
enter to win a $20 Gift Card to Bouncing Babies
so that you can get cloth diapers, cloth trainers, or whatever you need! (Giveaway ends 11/14/12.)