This post brought to you by
Kmart
. All opinions are 100% mine.
Wouldn't it be wonderful to be finished early with the holiday shopping so that you could relax and enjoy the holiday season?
If you are interested in getting some shopping in ahead of time, then consider Kmart's Layaway program. With Kmart's Layaway program you can set aside
holiday gifts
now, pay them off gradually, and then pick them up in time for the holidays. It's a nice way to get things done in advance and pay off larger items gradually, so that they won't be such a big hit to your wallet when the winter holidays hit.
One of my favorite things about the Kmart Layaway program--and this really sets it apart from the other layaway programs out there--is that now through November 17th, you can get all the benefits of layaway without any service fee! This means that you can enjoy paying something off over time (and getting your shopping done in advance), without paying a cent extra! It's an amazing
free layaway
service that you can get at no cost. And I'm all about saving some green this holiday season!
While we're talking about the benefits of Kmart's layaway, check out this table that shows how other layaway programs stack up against Kmart's program.
You'll notice that at Kmart you can use layaway year-round on their full-range of merchandise. And because the layaway is available nationwide, you can even shop in one state and pick up in another! That is a huge help for those of us who travel every holiday season!
Here are some things that I would love to get from Kmart: a waterbath canner, a pressure-canner, and cloth wipes, of course! It's great to know that I could use layaway on these items!!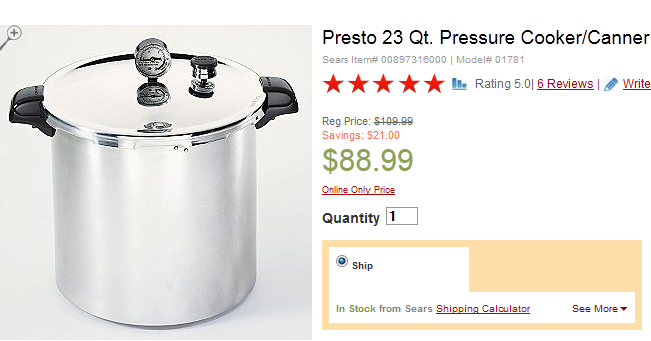 Finally, you all know how much I love a good giveaway. There's a
Kmart's Big Layaway Giveaway
going on right now! Each week at each store, one lucky person will have their entire remaining layaway amount paid off. What a wonderful gift that would be! Good luck and happy shopping!