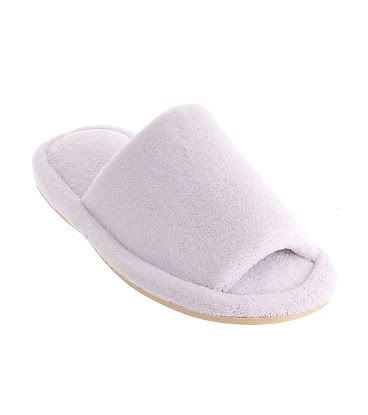 Welcome to the Nature's Sleep Slipper Giveaway!
You can win a pair of slippers to relax in luxury!
Here's the number one reason why I chose to work with Nature's Sleep: their environmental commitment.
Read on to learn more about Nature's Sleep's commitment to the environment, to read my review on wearing them, and to enter the giveaway.
It's so wonderful to find a company that is continually re-engineering their products and manufacturing processes to protect and conserve global resources, use less fossil fuel, and conserve the earth's resources. If only more "mainstream" companies would follow their lead in this area then we would be in a better place.

According to their website, they state that, "We are committed to a sustainable, responsible and unselfish environmental philosophy." I really respect that philosophy.
And here's why I am so happy that I am able to work with Nature's Sleep: the slippers are amazing! I've never experienced slippers before that are so supportive as well as comfortable. Well, confession: at first I thought that the support in the heel was a little strange. It's like an inflated disk. However, as I kept wearing the slippers over the course of just a few minutes, I got used to it and realized that the extra cushion really made the slippers so much more comfortable and wearable. Now it's one of my favorite features about the slippers because the slippers are actually supportive, which will help my knees and joints.
Some of the additional features of the slippers include that the slippers are made with memory-foam and are designed to distribute weight to reduce pressure points. They have a real sole, so you can feel confident getting the mail or newspaper while wearing them. They won't slip and slide around. I would recommend that if you are between sizes, order the larger size.