This fitted diaper feels so luxurious with its velour inner and jersey outer!
My daughter loved wearing it and was so comfy in its stay-dry squishiness!
Check out the
Sew Cute Baby Bums' Etsy store
to see more of these great diapers.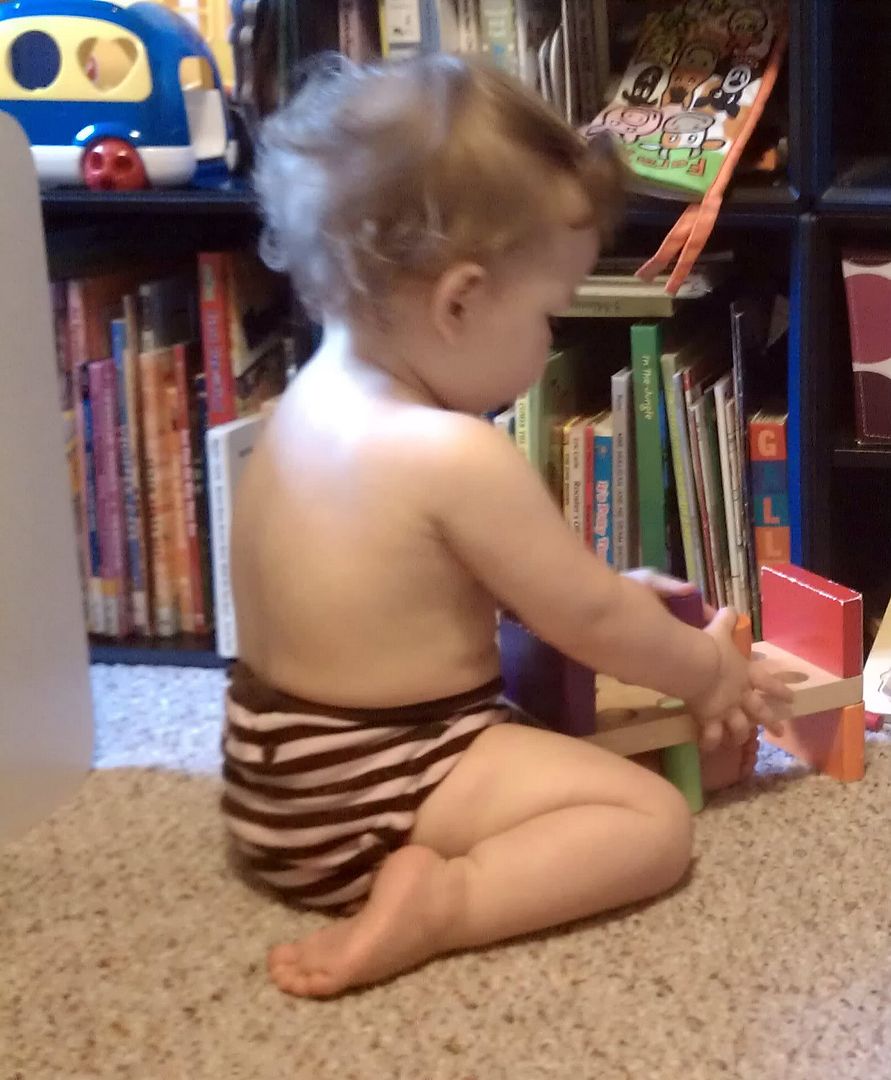 Read on for my full review of this fitted diaper and how it performed during the day, at night, and on the go...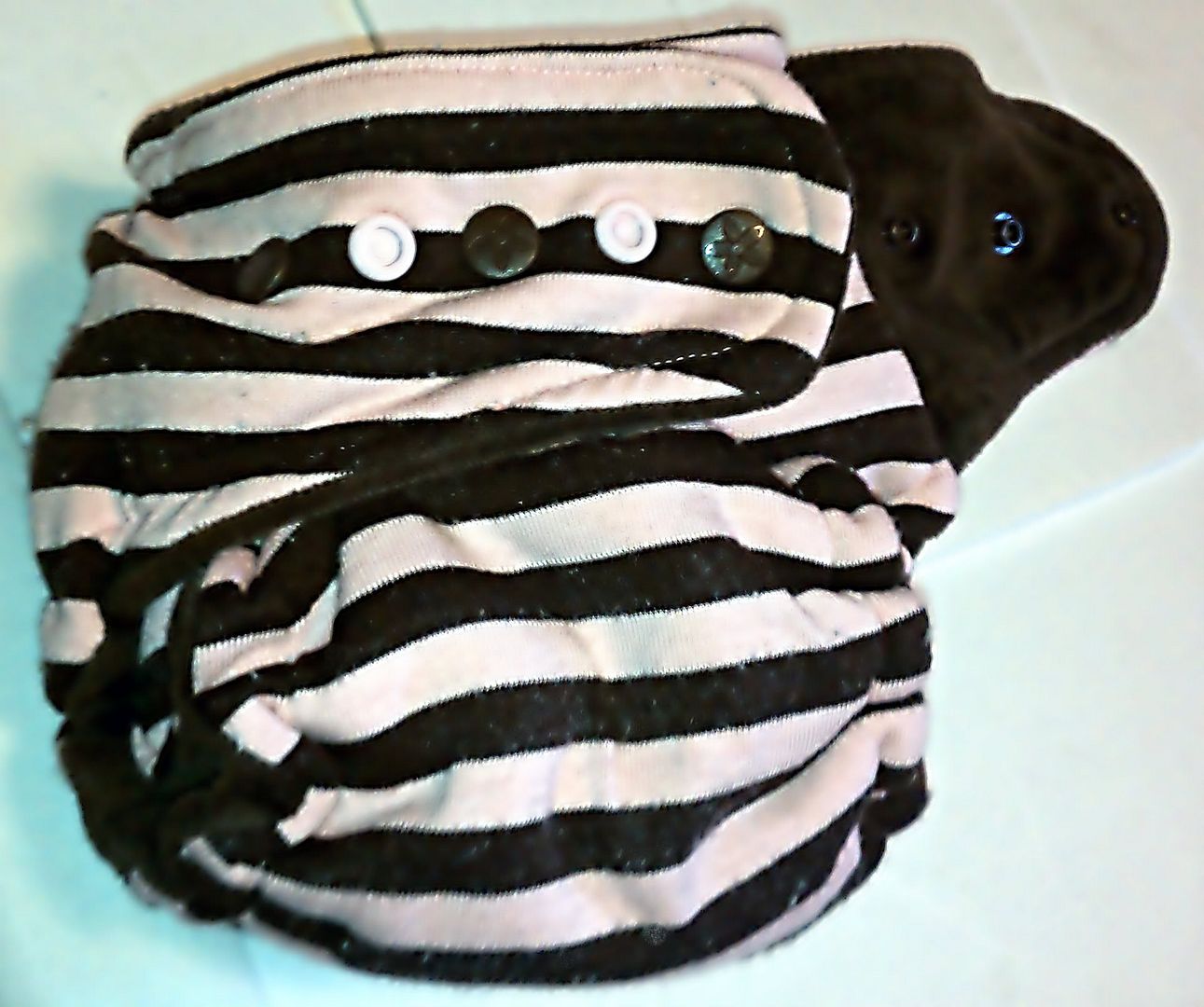 This adorable fitted diaper was created by Jaime at
Sew Cute Baby Bums
. It is a one-size fitted diaper with 1/4" pink and brown stripes. The outer fabric is a cotton jersey knit, the absorbent middle layer is organic cotton fleece, and inner is super soft stay-dry chocolate brown cotton velour. The diaper includes a snap-in soaker with two thirsty layers of organic cotton fleece sandwiched between two layers of the cotton velour. The soaker is adjustable to fit the needs of your baby. (You can
learn more about fitted diapers here
.)
Right away I noticed that the snap placement on the diaper was very carefully done. The snaps were lined up and evenly spaced along the tummy as well as through the rise snaps. I love the details that Jaime added to the diaper, like the pink and brown alternating snaps. The brown tummy snaps even have little flowers on them! When putting these on my daughter, who is 14 months old and about 23 lbs., the wing snaps lined up perfectly with the tummy snaps. There was no bunching or stretching to make the snaps align. I really appreciated the attention to detail in the snaps because some of my other snap diapers have issues with spacing.
Another great aspect of the diaper is its width through the middle. I prefer a wider crotch in a diaper because it gives me more freedom in adding my own doublers or even a trifolded prefold, should the need arise. However, I soon found out that doublers would be totally unnecessary, because the diaper is amazingly absorbent! My daughter wore this diaper all morning one day (longer than I would normally leave her in a diaper, but there was some miscommunication) and the inner barely felt wet at all! All the wetness had been absorbed and the stay-dry velour still felt nice and dry.
| | | |
| --- | --- | --- |
| The fit of the diaper was great. The diaper fit snugly around the thighs but left no red marks. Overall it was a great fit and it moved well with my daughter as she tried to escape getting her pictures taken! | | |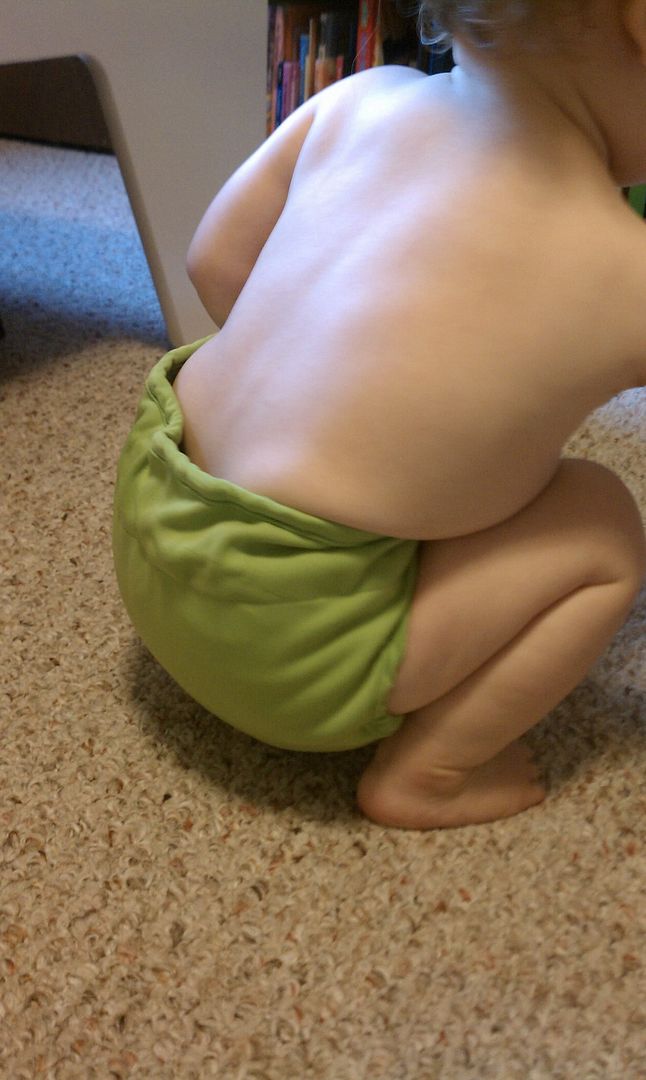 You can see that the snap-in soaker attaches with two snaps in the back. I like that there are two snaps so that the soaker doesn't slide around from side to side. My one suggestion for this diaper is that the snaps on the back of the diaper should be sockets instead of studs so that the diaper could be worn without the soaker.
Another great feature of the diaper is that it fits under our regular covers. Under a cover (Wonderwrap) it didn't seem any bigger than a prefold!
In conclusion, I am so pleased with this diaper from
Sew Cute Baby Bums
! I absolutely adore the velour inner and this diaper has performed perfectly for us during the day, at night, in the car, and we are stain-free! This diaper is definitely bullet-proof (aka it will never leak) because of all of the absorbent layers. I feel confident when my baby wears this diaper that she is comfortable and that she will not feel soaked. I've also tried this diaper on my 3 1/2 year old toddler and it fits him great as well! Thank you, Jaime, for such a wonderful diaper!
Please visit
Sew Cute Baby Bums on Etsy
, on
Facebook
, and
follow on Twitter
!
Great news! You will get a chance to win a fitted diaper from Sew Cute Baby Bums during the Summer Cloth Diaper Giveaway Hop, beginning on June 21! Check back often for updates!