So the other day I was late to teach. I rushed to campus, got out of the car, looked down, and this is what I saw: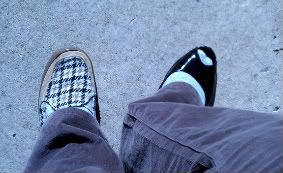 Seriously. Seriously!
I was wearing two
totally
different shoes! And I was already late and had no time to go home and change. (And no back-ups in the car.)
Here's what happened: at home, Little J had been
tormenting
playing with Baby E. In order to distract him away from her, I asked him to help me choose some shoes. I was going to wear the brown plaid loafers (on the left), and he wanted me to wear the black patent leather heels (on the right). He wouldn't drop it, so I put on the black shoe to appease him, and figured I would just change it later when he wasn't watching. Apparently I forgot. Nice.
So yes, I did teach two German classes like this. Now I have a newest embarrassing moment. (It was a good opportunity to review commands and the present perfect in German though, as I recounted to my students what Little J had said.)
Well, thanks for visiting my not-so-wordless Wednesday! Please leave a comment and link up. :-)
Happy Wednesday,
Christine