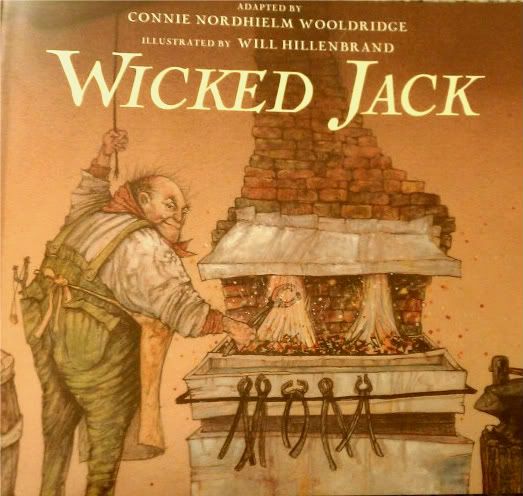 We are huge fans of children's books at my house. I have wonderful memories of reading books each night with my mom. Now that I have a family of my own, our walls are lined with bookshelves. My son loves to read, and that is something I am so grateful for!
This love of good books is why I want to recommend (and give away a copy of) the children's book
Wicked Jack
by Connie Nordhielm Wooldridge with illustrations by Will Hillenbrand. Not only is this a fun book for children ages 8+, but I found it immensely entertaining as an adult as well. (And this book is printed in the USA!)
The story is an adaptation of an old folk tale, which tells the
real
story behind the mysterious lights that appear in the swamps and marshes of Virginia and North Carolina. You may have heard of these as swamp or marsh gas, but you should know the truth! It's Wicked Jack and his burning coal.
Readers will be delighted by Wicked Jack's antics as he plays tricks on unsuspecting guests. These tricks eventually get him turned out of both Heaven and Hell! The descriptions of his meanness are funny and entertaining and are accompanied by clever and interesting illustrations. You don't have to worry about the book or the illustrations being too scary. They are all in good taste and always have a touch of silliness to them.
Would you like a copy of Wicked Jack? To enter, please use the Rafflecopter form below.
(I received a copy of the book in order to write an honest review. I was not paid to write this post. All opinions are my own.)
Also be sure to visit Children's/YA author Connie Nordhielm Wooldridge at her website,
www.conniewooldridge.com
. You can also follow Connie on
Twitter
,
Facebook
, and
Linked In
.
Thanks for entering at Why We Love Green!
Happy Winning,
Christine