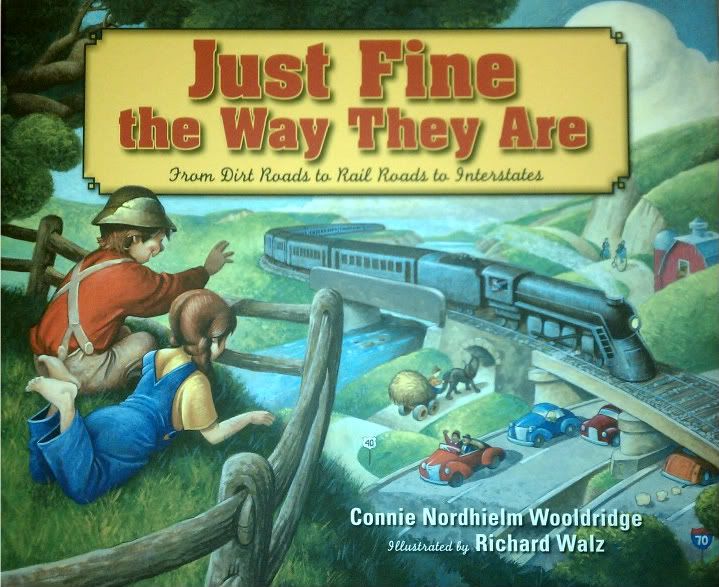 Just Fine The Way They Are
is the perfect children's book for my family! It's all about roads, cars, trains, progress AND has an environmental message. Let me tell you that my three year-old and I read this book and he was fascinated. When we were done he immediately requested to read it again! It was a hit! (If you are interested in winning a copy of this book, please enter using the Rafflecopter form below.)
Just Fine The Way They Are
is by Connie Nordhielm Wooldridge with illustrations by Richard Walz. And just how did Connie Wooldridge combine transportation and the environment?
In the story, we read about how people have resisted change in transportation throughout history. But we can see today that changes were for the better, especially when you consider all the places we can go and how quickly we can get there. It's a good thing that change happened.
The problem is that we still have the same mentality that things are fine the way they are, when really, the earth is crying out for a change. I love how the book gets you to think about how progress is necessary and good, and then applies that to saving the earth and finding new and better ways to power our vehicles. I highly recommend this book!
Would you like to win a copy of
Just Fine the Way They Are
? Enter using the Rafflecopter form below!
(I received a copy of the book in order to write an honest review. I was not paid to write this post. All opinions are my own.)
Also be sure to visit Children's/YA author Connie Nordhielm Wooldridge at her website,
www.conniewooldridge.com
. You can also follow Connie on
Twitter
,
Facebook
, and
Linked In
.
Happy Progress!
Christine @ Why We Love Green