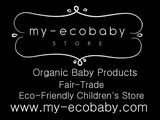 Please join me in welcoming My EcoBaby Store to Why We Love Green! I am so excited to introduce you to this eco-friendy and fair-trade baby store! I have fallen in love with their embellished onesies and tiny baby booties. Stop over and say hi and you'll see what My Ecobaby Store has to offer. I'm sure they'll become one of your new favorites for baby and holiday shopping this year.
Other baby items available from My Ecobaby Store include eco-friendly shoes like mary janes and booties. Clothing and accessories such as babylegs (great for using with cloth diapers!) and crochet items are also available, and almost everything is organic!
Are you interested in winning some baby items that are fair trade, organic, and eco-friendly? Read on!
Welcome again to My Ecobaby Store! I am so thrilled about the fair-trade, eco-friendly, and organic baby products that you provide.
*Disclaimer: I was compensated for writing this post. All opinions and recommendations are my own and are my honest opinions.*