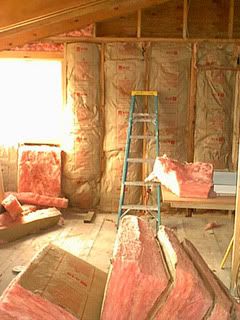 By improving the way in which your home is insulated, you can help save money on your energy bills as well as helping the environment. You'll also help to create a warm and cosy home environment for all your family to enjoy.
Although insulation improvements can involve some financial outlay, they can help you save money on your monthly bills and will typically pay for themselves in the long run.
Remember to check with your home insurance provider before making any large modifications to your home. Additions or alterations to a property could affect your cover, so it's worth speaking to your provider directly. Also, if you plan to carry out any insulation work yourself, make sure you have accidental damage cover in place - just in case things don't quite go to plan!
Here are some top insulation ideas:
In poorly insulated homes, around one third of the heat lost is through the walls. That's why it's so important to check the walls in your home are sufficiently insulated.
If your home was constructed in or after the 1920s – it's likely the walls will be in two layers with a small gap between them. Cavity wall insulation will fill this gap
to help significantly reduce the amount of energy you need to heat your home. Cavity wall insulation could help you save over £100 ($150) every year on your heating bills.
You can also help improve the efficiency of solid walls with either internal or external insulation. It normally works by coating or filling walls with a layer of material that only allows heat to pass through it very slowly. It's worth doing, as solid walls are typically less effective at retaining heat than cavity walls.
Around 25% of heat can be lost though the roof alone. By effectively insulating loft areas, you can help conserve more of that precious (and expensive) heat within your home.
By insulating your loft or topping up the thickness of any insulation you have already – you'll start using less energy and in turn reduce your carbon dioxide emissions (one of the biggest causes of climate change). You should also enjoy a reduction in your bills too.
Gaps and cracks in your floors or skirting boards can be very easy to fill yourself by using a filler or sealant. Keeping on top of these small imperfections could help to reduce the heat loss in your home. In addition, you may want to
lay mineral wool insulation under your floor. This can normally be fitted to timber floors by lifting up the floorboards and laying the insulation between the joists.
Insulating your hot water cylinder and pipes can help keep your water hotter for longer by helping to prevent the escape of heat. A thick insulation 'jacket' around the cylinder is a good place to start, as they're a quick, inexpensive way to effectively combat heat loss. If you already have one of these jackets, take a look to make sure it's still in good condition. Insulation for hot water pipes is equally cheap and will help save you energy and money.
Double-glazing is an obvious advantage in the fight against wasted energy. In fact, it could cut the amount of heat you lose through your windows by half. Aside from this, you should look out for any gaps that are letting in draughts. Good draught-proofing is often overlooked by homeowners when it's actually the simplest way of helping to save energy. There are plenty of DIY products available such as self-adhesive foam strips, draught excluders and letterbox brushes and flaps.
----------------------------------
Thank you, Policy Expert Blog for your guest post!