Usually I make my own Halloween costumes, but this semester has been my most insane semester yet! I love Halloween and knew I absolutely needed to get a pre-made costume this year to save my sanity. I am kind of picky though, so I was worried I wouldn't find anything in my size that was modest and fun. It was CostumeSuperCenter to the rescue! I had lots of fun browsing their website for costumes, which include cute and inexpensive toddler costumes, women's costumes, plus size costumes for Halloween, and men's costumes, along with many many Halloween accessories. I spent hours checking out every possible costume and I ended up spending a lot of time looking at the
Renaissance costumes for Halloween
. Here is the one I chose! It's called the Lady in Waiting costume and I decided I would officially be Maid Marian. Now my task is to convince my husband to be Robin Hood... Here's me posing in my costume: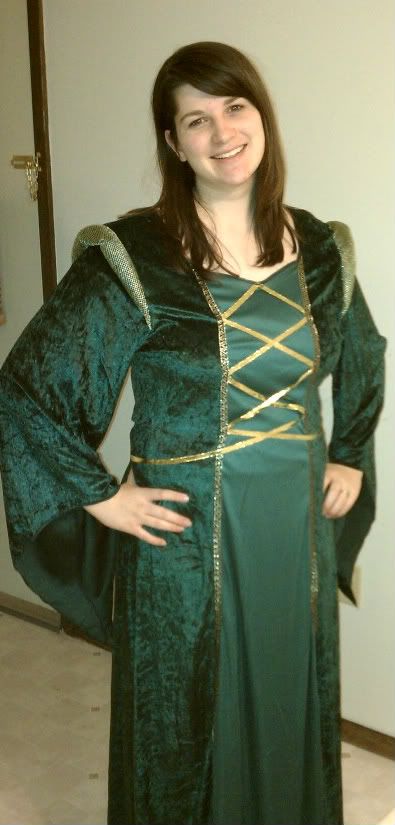 My dress also came with a matching hat. (I'm not wearing the hat because I have a massive head.) From my research the hat seems like a pretty authentic style for the time period, which I appreciate very much in my Halloween costumes. (I'm a costume nerd, I know!)
Guild Hall
is a site with information about Renaissance clothing and costumes that has images of similar caps.
I am very happy with the quality of the costume and the material. I was worried it might be paper thin, but it is a nice velvety material. It seems to be well made and I will be able to keep this for future dress-up occasions and Halloweens. I would recommend ordering up a size. I'm glad I did. Oh, and there are many costume coupons available on their site, so don't forget to check for those at the top of the screen!
Happy Costumes!
Christine