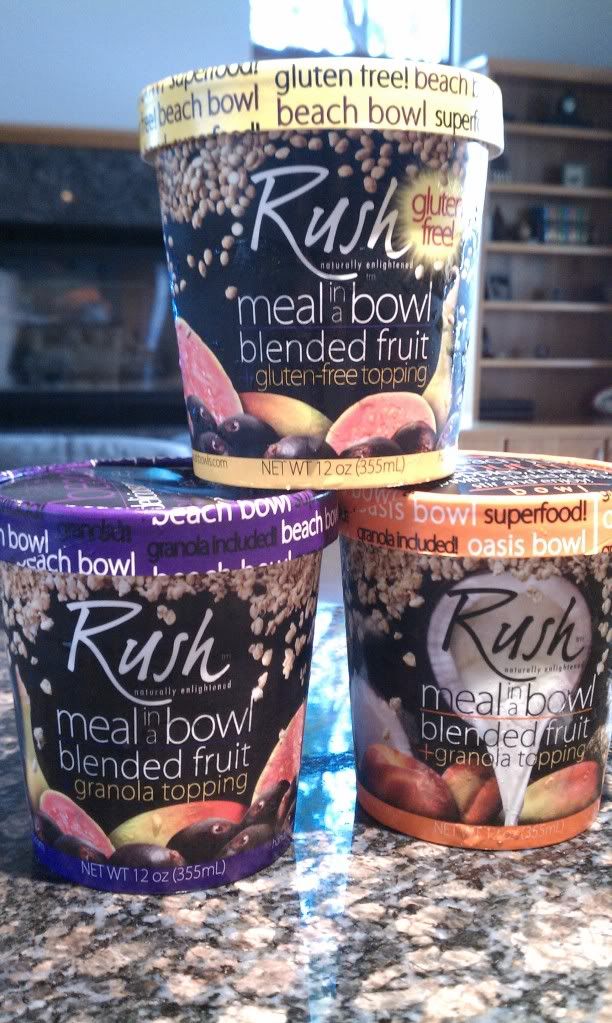 Not being able to eat dairy or soy while I'm nursing has been a real challenge. It's a tough diet for a breastfeeding mother! I am constantly on the hunt for healthy and delicious products that I can eat during this time of dairy and soy intolerance. I have to say, I've been very surprised by all of the great allergen-friendly products that are out there! One of my discoveries is the
RUSH Bowl
. These are blended frozen fruit with granola--and they are so delicious! They contain only all-natural, pure ingredients and are hearty enough to eat as a complete meal.
My sisters-in-law and I tried out the Beach Bowl, the Gluten Free Beach Bowl, and the Oasis Bowl.
The Beach Bowl is a blend of 100% pure guava juice, açai berries, mango, and banana with an organic granola topping included. (The topping does contain soy).
The Gluten Free Beach Bowl is a healthy gluten free treat that is the same as the Beach Bowl, only the topping is gluten free and (and soy free as well). These were delicious, and I was so grateful for a completely soy and dairy free option!
Our favorite overall was The Oasis Bowl, which is a dairy free frozen delight made from coconut milk, mango, pineapple, and peach juice with an organic granola topping. (The topping does contain soy. The toppings are packaged separately from the fruit itself, so I could still eat the fruit blend.)
They also carry a Yoga Bowl and a Power Bowl, which also look incredibly appetizing. (The Yoga Bowl contains soy and the Power Bowl contains dairy.)
These aren't your typical ice cream, sorbet, or sherbet.
Rush Bowls
are all natural and FRUIT ONLY! This is a healthy meal or treat that you can feel happy about eating. I really respect that in a frozen product! To try out a Rush Bowl, you can purchase through
a distributor on their website
. Or if you live in the west, you may be near a Whole Foods or other natural food store that carries their products! You can
find stores that carry the Rush Bowl here
.
Happy Natural Eating!
Christine
*Disclaimer: I was not paid to write this post. I received the product from the company in order to write an honest review.*