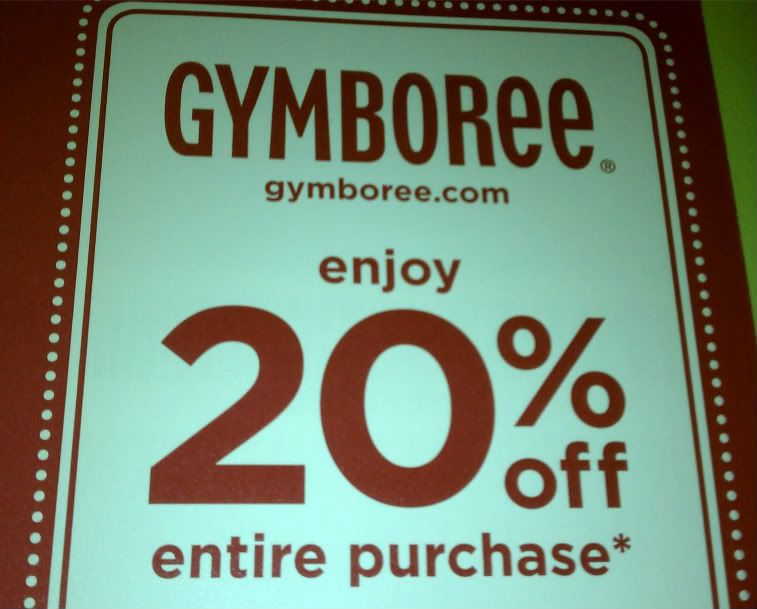 I know how much some people
need
coupon codes for their online purchases. I have been there, scouring the internet at 1 am to find just one little code so that I could buy that adorable monkey sweater.
Now that so many magazines come to our house, I have more Gymboree coupons than I could ever possibly use! (See
my post on how to get Parents & Parenting magazines for free!
) This month I also have a Crazy 8 coupon for
crazy8.com
. Because I'm trying to save some green and buy fewer new kids clothes, these coupons are just going to waste. Hopefully there are some moms out there who would love to snag one of these coupons to gymboree for an online discount. I'll keep the posts coming as I get more coupons, so check back regularly.
These are
one-time use only
.
If you take a coupon, LEAVE A COMMENT
saying which one you used, so that others will know that it's gone. Use at
Gymboree.com
.
EDIT: All taken. I'll create another post when I get more coupon codes.
Gymboree 20% off entire purchase (10/23): 1167516FC395777
Gymboree 30% off regular price items only (10/23): 11C4K17GC390925
Gymboree $50 off enrollment plus a FREE class (10/31): ENRNW (for gymboreeclasses.com)
Gymboree 20% off entire purchase (10/31): 11XCP062GM89240
Crazy 8 20% off entire purchase (10/31): 11PRFDZX0289724
While you're here, don't forget to
enter to win $100 Cash
and
My Memories digital scrapbooking software
!
Happy Shopping!
Christine