Just think about how many times babies put their toys in their mouths! Do we really know what those toys are made of and if they're safe for our little ones? Lucky for us there are toys from
Dandelion
, where children's products are organic and earth-friendly! With these great "eco-ssential" toys from
Dandelion
, you can be good to your baby
and
the earth!
Dandelion
sent me three wonderful toys to review and is offering a giveaway to one lucky reader! Read on to learn about the toys and to enter the giveaway. If you are interested in purchasing these and other high-quality organic toys and clothes, please
visit Dandilion's website.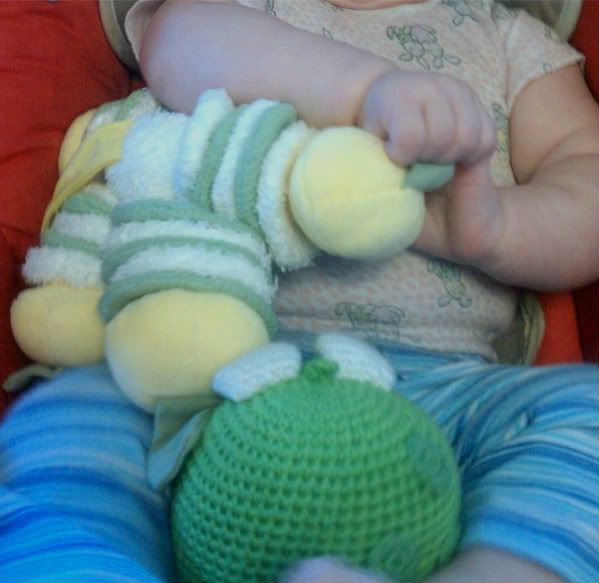 The toy that immediately drew my attention was
The Activity Attacher
, a developmental toy with multiple "arms". We love this toy because it offers fun without dropping! Not only that, but t
he Activity Attacher
is machine washable and is made of an organic cotton outer and soft corn inner. It features teething tags, a rattle, two squeakers, and rings that crinkle! So much to explore! We have found
the Activity Attacher
great for car and stroller rides. It doesn't get lost, and keeps Baby E. enthralled and exploring!
If you love organic products and want to give back, then toys from
The PINK Collection
are for you. A portion of the proceeds from The PINK Collection is donated to support breast cancer research. The
PINK Flower Book
, shown here, is a teething and discovery toy with an exciting crinkle sound. Baby E goes wild for the crinkly sounds and really investigates the book by turning (and chewing on) the different pages.
And finally, allow me to introduce
Froggy,
our Roly-Poly Pal
. We are so in love with
Froggy
! He's hand crocheted from pesticide-free bamboo rayon thread and is filled with natural corn fiber filling (and a rattle). Froggy also can take baths in the washing machine, thank goodness! Baby E. loves to grab on to Froggy's eyes and feet and try to get as much of him in her mouth as possible. He rolls just the right amount on the floor--not so far that baby can't reach, but just far enough that she has to stretch and wiggle her way over to him. Everyone in our family has declared Froggy their favorite toy.
Buy it!
You can buy these and other wonderful organic toys and clothes at
Dandelionforbaby.com
.
Win it!
Dandelion
wants to shower you with gifts. One of my lucky readers will win their choice of a Dandelion Activity Attacher, Cloth Book, or Froggy! To enter the giveaway, use the Rafflecopter form below.
*Disclaimer: I was not paid to write this post. I received these products for free for review from the sponsor. All opinions are my own.*