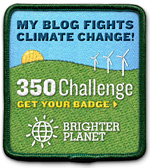 I've done a few posts now on
carbon footprints and how we can offset our carbon footprint
, so I was really excited to find this patch in my nightly blog-surfing. What I discovered is a free and easy way to start offsetting your carbon footprint! Add this button to your blog, and
Brighter Planet will purchase/offset 350 pounds of carbon
in your name. You have nothing to lose, except pollution!
I encourage every blogger to
sign up
and add this patch to their blog. We can make a difference, and in this instance, we can do it for free! Thanks Brighter Planet!
Happy Offsetting!
Christine
Please click on this post to view or leave comments.