*Giveaway Closed*

Photo from Amazon.com
It's time to celebrate--we're having our first giveaway! I want to thank all those who have visited the Why We Love Green blog, followed, and left great comments. It has been so much fun getting to meet such great people!
This giveaway is sponsored by Clean Teen Reads at CleanBooksforTeens.com, a site that provides detailed reviews of young adult books. Thank you, Clean Teen Reads!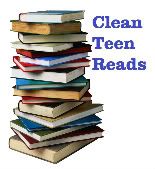 Clean Teen Reads is a very useful website where teens and parents can read detailed reviews of young adult books. All reviewed books are carefully read to find and alert readers to any possible Offensive Language, Sex/Nudity/Reproduction, Drugs and Alcohol, Violence and Death, Dishonesty and Criminal Behavior, Witchcraft/Fantasy/the Supernatural, and any other elements that might concern teens or parents. Clean Teen Reads also outlines other useful information like books for reluctant readers, books for boys, and reading levels. New books are added each month.
As stated on
the Clean Teen Reads Facebook page
,
"The
CleanBooksforTeens.com
website has three sections:
1) a TEEN SECTION provides reviews without getting too specific, so they doesn't spoil the book. Teen and tweens don't need to log in.
2) a PARENT SECTION provides reviews with detailed information, including spoilers. Parents and other adults over 18 may register for free to use this section
3) a SUBSCRIBER SECTION offers enhanced search options. Subscriptions are available to people over 18 for $12 per year."
I definitely recommend Clean Teen Reads to anyone who loves Young Adult literature. I have been able to find great books to read, that I otherwise would not have discovered. And the great part is, I know they're clean! It's hard to find reading material that is clean, and Clean Teen Reads has done the hard work for you! You can go to the site (
CleanBooksforTeens.com
or
CleanTeenReads.com
) and search over 120 books! And why is this green, you ask? Well, you will save time, resources, and money not buying books that you will later just get rid of. You will also be supporting an online business that creates no waste, has no packaging, etc. If you are interested in an easy way to evaluate books, then Clean Teen Reads is for you.
Clean Teen Reads has graciously offered to sponsor our first giveaway, which features the VistaQuest DV-700 Digital Video Camera! This Video Camera is a video camcorder, digital still camera, and voice recorder all in one! It's a cute, compact little camera and looks great for on-the-go use. Your prize includes the brand new Video Camera, charger, batteries, hand strap, and TV-cable. Open to US and CANADA!
In order to enter this giveaway, you must publicly follow this blog via Google Friend Connect.
Complete the mandatory entry first, and leave a comment saying you did so.
For each additional entry you complete, leave an additional comment. One entry = One comment.
After midnight on Wednesday August 3rd, I will draw a winner using a random number generator. The winner will have 48 hours to respond before a new winner will be drawn. Good luck and have fun!
+1 Mandatory Entry
: Go to
CleanBooksforTeens.com
and tell me which book review was your favorite. (You can read the Teen Reviews without registering with the site.) Remember, you must be a public Google Friend Connect Follower of this blog to enter the giveaway.
+3
Leave a
relevant
comment on any book review or on
the Discussion Page
at Clean Teen Reads. (You do not need to register to leave comments on Teen Reviews or the Discussion Page. You will need to log in to leave comments on a Parents' Review.)
+1 share (w/ link) this giveaway on Facebook (include link in comment)
+1 Tweet about this giveaway (include link in comment) (+1 per tweet, at least 1 hour apart) You can copy this or think of something yourself, but it must include @WhyWeLoveGreen and a link back to the giveaway.
#Win a #video #camera #giveaway from @WhyWeLoveGreen and CleanBooksforTeens.com at http://whywelovegreen.blogspot.com/2011/07/clean-teen-reads-review-and-video.html
+1 Subscribe to the Why We Love Green RSS feed by email (you must confirm this also)
+5 Place the Why We Love Green button on your blog or website (include link in comment)
+2 Blog about this giveaway (include link in comment)
+1 Leave a relevant comment on another post in the Why We Love Green Blog (one extra entry per post)
Thanks for entering, and good luck!
Christine
*Disclaimer: I am related to the owner of Clean Teen Reads / CleanBooksforTeens.com. I was not paid in any way, nor given any compensation, to host this giveaway. I also firmly believe in the Clean Teen Reads product and mission, and would even if I were not related to the owner.*
Please click on this post to view or leave comments.
*Giveaway now closed, winner to be announced*